New York has the descendant of Chinese restaurants displaying the cooking cultures as in every state in China, along with the fusion meals created by migrants in the USA. Whether you are seeking to taste the spicy Szechuan menu or want to experience a traditional weekend dim-sum breakfast, you could find them easily in the city.
Best Chinese Restaurants
From Midtown restaurants to small street-style Chinatown restaurants, the following are some of the best Chinese restaurants in the New York City.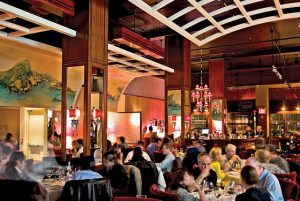 Grand Sichuan
Xiaotu Zhang began this diner in 1998. Start your order, with a pot of noodles, filled with peppercorns, or choose the addicting Gui Zhou chicken, which blends hot chillies and Szechuan peppercorns, with no droplet of sauce. If you want anything milder, get a basket of the famous eight delicious pork soupy dumplings.
Mission Chinese
The menu expands from chicken wings to Kung Pap pastrami with fresh meals. You could also spend your waiting time for a dining table in the bar downstairs, but the party is actually in the upstairs which is packed with turnip cakes and pork cheeks, while retro hip-hop music is played in the room.
Da Xi China
This upscale eatery offers contemporary dishes like the Tibetan style cooked pork rib, congee with millet, in a melodramatic and lively way with intense colours in the plating.
Wo Hop Bistro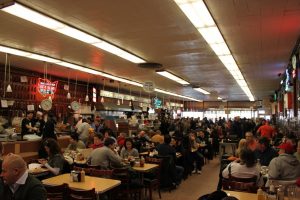 Established in 1938, Wo Hop is one of Chinatown's oldest restaurants and the historical premises reveals it. The staff wear blue shop jackets and traditional meals reign over the menu. The food served here is healthy since it is high in veggies and low in oil.
Shan Dong Fried Dumpling China
The Fried Dumpling, a descendant of the Dollar Dumpling Stall on Allen Street, is now a restaurant located on Mosco Street. As the name indicates, the menu is offers only a few types of fried or steamed dumplings, hot spicy soup, sesame-bread sandwiches, and dishes that use wheat instead of rice.
Chinese Tuxedo
This expensive Chinese eatery is established in a two-storied building in old Doyers Street. They serve contemporary meals in small plates that are made by Chef Paul Donnelly is something that anyone could die for. Do not forget to try the XO noodles with egg fettuccine glazed in seaweed butter and rubbed in a chutney of shrimp.
Nom Wah Tea Parlor China
Located in Old Doyers Street, the food in the restaurant is fresh and simply delicious; this is one of the oldest in Chinatown. The dining space is historic in every way possible. Do not miss to taste the pork buns with sticky rice and shrimp dumplings along with rice rolls.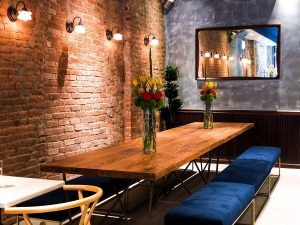 MáLà Project Restaurant
Ma La means Numb and Spicy; the star dish of the restaurant is served in a dry pot, stir-fried in the spread with 52 add-ins of your choice. Meats available range from pig artery to beef. The fish slices and squid rolls could be coupled with frog. Vegetables consist of konjac noodles and chayote.
Joy Luck Palace
The new Joy Luck Palace serves some of Manhattan's best dim-sums. Customarily the menu steers the eatery, though the nicely spaced tables in this huge area, which are sizable enough to hold families or large groups is also an added advantage. The steamed cake that shows up in a steam container is a delight for the kids in addition to the buns that are filled with custard, designed like cupcakes and with an animal face on them.
Flaming Kitchen China
Flaming Kitchen was initially started with another name; it is a restaurant with succulent dumpling soup and there is a seating arrangement downstairs for the youngsters whereas a retro-kind dining-room that is upstairs is meant for senior citizens. As there was more demand for Sichuan meals, the shop changed the menu, while preserving their unique culinary art alone.
Spicy Village
Wendy Lian owns this eatery, and her family is famous for serving some of the most delicious Henan Food in town.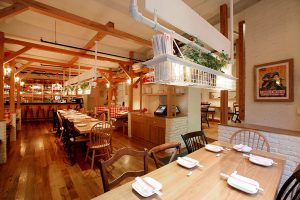 Order the spicy chicken noodles and relish it with the garlic sauce.
RedFarm
The restaurant has a dining room that is certainly a unique scenery for any Chinese restaurant. Designed with drag-type tables, with lush plants in the window panes, wood pillars and booths, the place looks stunning. And the menu is diverse enough to make it difficult for you to decide which to pick; you can take help from the servers. Don't miss the steak of the rib-eye that is marinated with fresh soy and papaya; this is considered as the apt food that is a perfect Chinese recipe and you can never get the same taste in any similar place that is available nearby.
DaDong NY
The menu of Peking duck from the popular Chef Dong Zhenxiang is the highlight of this spectacular 400-seat Chinese restaurant chain that is located right outside Bryant Park.
Han Dynasty
This is a wonderful place to satiate your Sichuan peppercorn yearnings. Traditional dishes like tofu and dan-dan noodles are scrumptious, but the sesame noodles is the actual winner. The noodles are thin, lightly sweetened, and mixed with white vinegar and has a mild taste.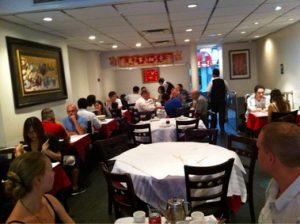 456 Shanghai Cuisine Chinatown
The restaurant was established in 1963, with the owner's grandson taking care of the business, the restaurant was resumed in 2011. Majority of the menu's classics stay the same like soup dumplings, cold sesame noodles and crispy fish. There is also a comprehensive array of dim-sum and lunch specials.
Yun Nan Flavour Garden Restaurant
Earlier this noodle house used to be as a small dining eatery and now it has moved into the more spacious area in Chinatown. This place is famous for its best selling breakfast menu that includes dumplings with hot & spicy soup, homemade cold noodles with pork mixed with peanuts, chilli oil, soy sauce and vinegar. The menu also includes bone broth, topped with fried pig skin and tossed with minced pork sauce.
Oriental Garden
Fresh, Seafood in Cantonese-style is the main focus here, even though the menu offers numerous meals. Use the crab tank placed in the front of the restaurant as the inspiration and get the assistance of a staff, who might guide you toward perfectly steamed whole fish, broccoli coated prawns, bean sauce tossed in clams or the massive dim-sum options.